Sunflower Seeds Oil Introduction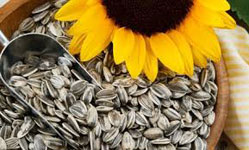 The oil content of sunflower seed is average 30%-45% mostly in sunflower seed kernel. The sunflower is a distinctive, flowering plant, the seeds of which contain a valuable edible oil that contains more Vitamin E than any other vegetable oil. Most sunflower oil is used in food products. The seeds of confection varieties of sunflowers are also sold for human consumption and birdseed.
Flow Chart of the Sunflower Oil Pressing Line
Elevating – Seed Cleaning – Elevating – Cooking – Elevating – Pressing – Filtering
Or you can choose an integrated oil press machine to press and filtrate oil at one time.

Main Equipment of the Sunflower Oil Pressing Line
Cleaning Sieve
Model: 6SX-1200
Capacity: 3~5T/H
Power: 1.5KW
Net Weight: 300KG
Outside Size:2350*1350*1300MM
Cooker
Model: 6GT-700
Capacity:150~200KG/h
Power: 1.5KW
Net Weight: 160KG
Outside Size:1525*1220*1490MM
Oil Filter Press
Model: 6LB-250
Capacity: 200kg/hr
Power: 1.1kw
Weight: 470kg
Working Pressure: 0.3-0.4MPa
Dimension: 1300*750*700mm
Screw Elevator
Model: STS-5
Capacity: 1~2T/H
Power: 1.5KW
Net Weight: 200KGS
Outside Size:2880*1080*575mm
Screw Oil Press
Model: YZS-100
Capacity: 4-5MT/24H
Power: 7.5KW & 15HP
Outside Size: 1910*610*765mm
Weight: 550kg
Integrated Oil Press
Model: YZS-100A
Capacity: 5T/24H
Power: 7.5+1.1KW
Outside Size: 2270x750x1820mm
1220*590*600mm
Weight: 780KG
Features of the Sunflower Oil Pressing Line
★ Easier to operate, easier to install and commissioning.
★ Need small investment, fewer land space, but with the complete function of the production.
★ Wide application that can make many other kinds of vegetable seeds and nuts, such as rapeseeds, cotton seeds, sunflower seeds, corn germ, palm kernel, sesame seeds and so on.
★ Need fewer labor than the single machines, only 2~3 persons can run the whole line
★ The semi-continuous can avoid the unstable material feeding caused by manual and can make the worker safety more under the higher temperature working situation.