|
products
|
screw oil press
|
Model: YZS-100 Screw oil press
Capacity: 4-5MT/24H
Power: 7.5KW & 15HP
Size: 1910*610*765mm
Weight: 550kg
Click on the picture to zoom in
YZS-100 oil making press adopts the principle of multi-stage gradual compression to increase the pressure in the barrel quickly and thus maximize press oil out. Oil output rate is greatly improved for the unique design of the oil guide groove in the barrel. It helps separate oil and cake rapidly to avoid oil absorbed by dry meals. This model oil press machine is easy to operate and repair, performs reliably, and is capable of processing a wide range of plant seeds, for example corn, rapeseed, cotton seed, sesame seed, peanut kernels, soybeans, sunflowers, jatropha, linseed and other vegetable oil plants.

Structure of YZS-100 Oil Press Machine
YZS-100 oil press machine is a screw-driven oil making machine that mainly composed of feeder, gear box, pressing cage, screw shaft and the machine stand.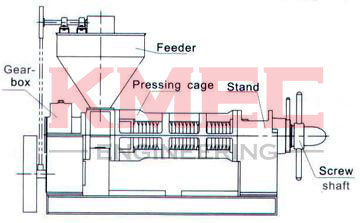 Oil Output Rate and Cake Residual Oil Rate for Different Material
| Raw Material | 24 Hours Processing Quantity(KG) | Oil Output Rate(%) | Cake Residual Oil Rate(%) |
| --- | --- | --- | --- |
| Peanut | 4000-5000 | 30-35 | 8 |
| Soybean | 4500-5000 | 10-14 | 6.5-8 |
| Sesame | 3500-4500 | 44-47 | 6.5-9 |
How to Extract Peanut/Groundnut Oil?
Peanuts/groundnuts should firstly be shelled and cleaned by certain seed cleaning equipments,to separate foreign material (primarily soil, vines, stems, and leaves) from peanuts seeds.Then crushing and roasting the cleaned seeds to proper particles as well as pressing temperature. At this time, the pretreated peanuts kernels could be pressed by oil expellers to extract peanut oil. However, the crude peanut oil usually contains a number of impurities. So for edible oil, the pressed peanut oil needs to be sent to the oil refining plant for further processing or you can just equip a oil filter press to filterate your oil.

Methods of Peanut Oil Extraction
Oil from peanuts is conventionally extracted by either mechanical pressing or solvent extraction. Mechanial pressing is a less efficient process but with heathier oil, leading to low oil recovery(40-60). Solvent extraction, although its recovery is in the 90-98% range, has inherent disadvantages of poor quanlity of protein in oil cake(meal), and high investment, and energy requirements. Both methods have their advantages and disadvantages, you can choose one according to your oil making needs!
Peanut Oil and Its Health Benefit
Peanuts are an important food source of lipid in develeping as well as developed coutries. It is one of the major oils in the human diet.Peanuts seeds contain 27-29%(w/w)protein and 40-50%(w/w)oil. Peanut oil provides several health benefits and offers a healthier source of fat. Additionally, peanut oil often costs less than olive oil, although it contains most of the same nutrients and provides many of the same benefits; hence, it makes a wise economic choice as well as a flavorful, healthy food choice. When buying peanut oil, look for packages that state "100 percent peanut oil," to get the most benefits. Lower cholesterol, Lower blood pressure, Aid weight loss, Benefit diabetics.