|
products
|
screw oil press
|
Model: YZS-165 Screw oil press
Capacity: 15-20T per 24Hours
Power: 22-30KW
Size: 2290*750*1020mm
Weight: 1600kg
Click on the picture to zoom in
The YZS-165 screw oil press machine we produced can process sunflower seed, peanuts, soybeans, sesame, rape seed and other oil plant. The equipment adopts quality steel and castings to satisfy long time continuous working. The performance of the machinery is stable and the service life is up to 20 years. Oil extracted buy this machine is very pure and with faint scent. The YZS-68 oil making machine is small in size but have higher oil yield, labor and time saving with low noise. Our machinery sells pretty well domestic and overseas and has been highly praised by new old customers.
Features of YZS-165 Screw Oil Press Machine
★
Cast iron machine base;
★
Special gear box structure make the rotating speed averagely;
★
Main parts of chamber through the processing of high-temperature tempering and low temperature quenching;
★
Cake thickness can be adjusted once the machine stop running;
★
Superior grade oil cake;
★
Compact structure, stable function, simple maintenance
How Is Oil Extracted From Sunflower Seeds?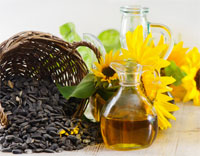 Importance of Sunflower Oil has steadily increased in recent decades because of its high proportion of valuable linoleic acid. The kernel makes up about 70 percent of the seed, with an oil content of about 55 percent. Sunflower oil making involves cleaning the seeds, grinding them, Expelling and extracting oil by screw press machines, and further refine the crude oil by filter press or you can choose a small scale oil refinery line to satisfy your oil making needs.