|
products
|
other equipment
|
Filter, the typical intermittent pressed filter equipment, applies to solid-liquid separation of all suspension. The filter chamber is formed by filter boards and filter frames or filter boards rows (box-type), under the function of conveying pump, it press the suspension liquid into filter rooms and through filter intermediaries (filter cloth, filter paper and filter membrane) to separate solid and liquid. What is more, the box-type filter boards can be classified into common boards and diaphragm boards. The filter can be used wildly in petroleum, chemical industry, medicine, sugar, metallurgy, food, china, starch, coal washing, dye, and paint as well as sewage treatment in all industries. Here we will introduce two of our best sells plate and frame filter press, one is 6LB series oil filter, the other is BAM series plate and frame filter press.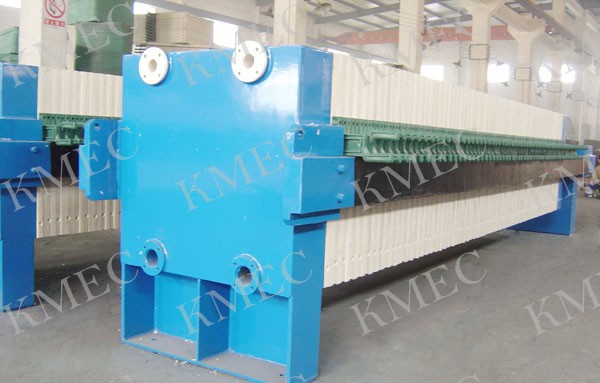 6LB Series Oil Filter Press
The 6LB series oil filter press is plate type oil filter machine which is mainly being used for separating solids and liquids in the
oil production plants
for edible or vegetable oils. This model plate filter press is suitable for filter crude oil and refined oil, and it is also could be applied to filter bleaching oil in the
oil refining plants
.
The plate oil filter press we produced is qualified the technology requirements of the IB/T 4333-1997 the pressure oil-filter in compartmental and plate type. KMEC supplies a wide range of filter press machines designed to give maximum filtration efficiency, longer service life and less maintenance. The filter presses are available in different sizes and various capacities. We can also provide oil filter presses to custom specifications.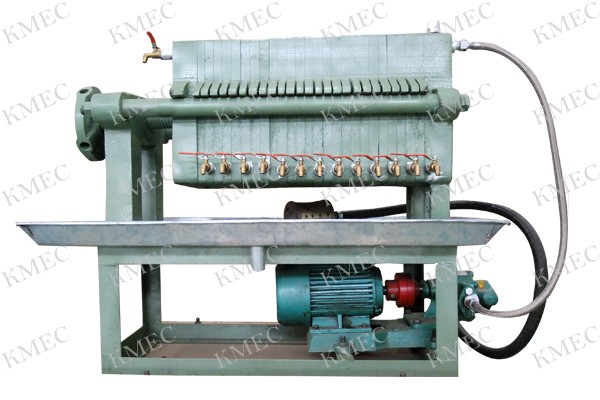 Technical Data
| Model | No.of filter plates | Dimension of filter plate | Working pressure | Productivity | Power | Dimension | Weight |
| --- | --- | --- | --- | --- | --- | --- | --- |
| 6LB-250 | 13pcs | 250*250mm | 0.3-0.4MPa | 100kg/h | 0.75kw | 780*530*670mm | 155kg |
| 6LB-350 | 25pcs | 350*350mm | 0.3-0.4MPa | 200kg/h | 1.1kw | 1300*750*700mm | 470kg |
Oil Filter Press Filtering Cloth
The oil filter press utilizes a fine-mesh filtering cloth, which is particularly useful in bio-diesel oil refinement. The filtrating cloth between the filter plates forms many rooms. The oil under the pressure goes through the filtrating cloth, gets out from the faucet beneath the filtrating cloth. The oil, under pressure, is forced through the filtrating cloth and exits from the faucet below.
Matters Need Attention When Using an Oil Filter Press
All the pipe clips should be tightened to prevent leakage of the oil.
Filtering cloth should be put between the filter plates, then lightened by tension bolt to make sure no leakage exists.
Oil will be expelled 2 or 3 minutes after starting the machine under normal operation, If no oil exits the oil press, please stop the machine or inspect oil pipe for blockage.
he valve is mounted for use when the filtering cloth becomes torn or the oil looks becomes dirty.
BAM Series Plate and Frame Filter Press
The filter series of our company accord with the national and related industrial regulations (see in technical parameters) and also be produced according to the customers' special needs. Our products are qualified and have passed the ISO9002 registration.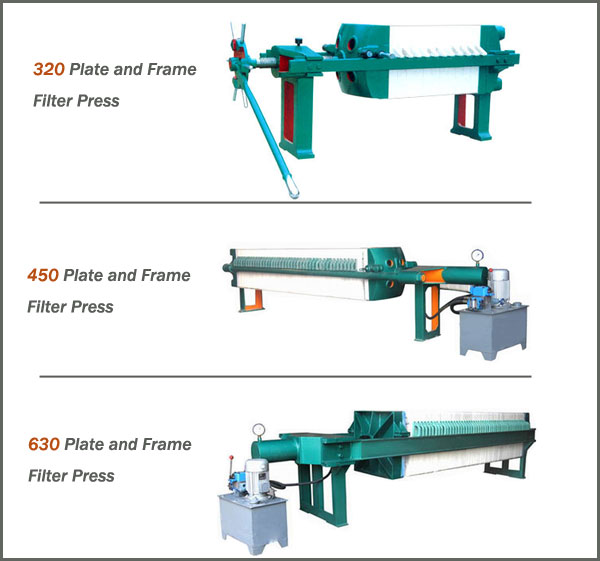 Structure of Frame Oil Filter
The Plate and frame filter press is a basic filtering unit that consisit by filter frame and filter plate. The filter is formed by four parts:Mainframe, filtering parts, press and control. The filter part is constituted by several filter boards and frames which are ranked in the main beam in an order—the filter is between filter board and fram.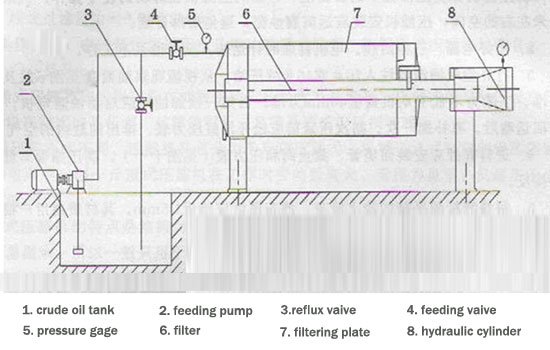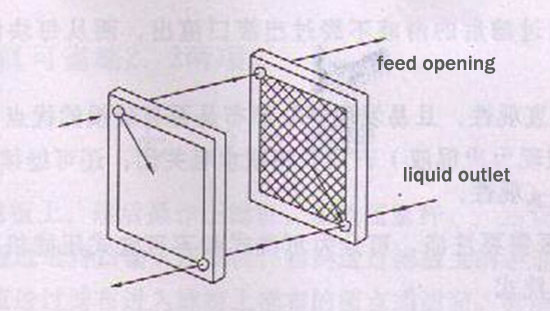 Working Principle
When material come into filter room from hole in push plate, the solid bigger than the hole of filter intermediary is hold in the filter room and become solid lump while the liquid flow out from the discharge hole by free flow and undercurrent flow. Under each filter board there is a hole with a water nozzle that the water flow out from the nozzle is called free flow, while the way brings water from each filter boars together and flow out by discharge channel is called undercurrent flow.
Technical Data
Model
Filtering Area(㎡)
Dimension inside the frame(mm)
Filter cake thickness(mm)
Number of filter plate(piece)
Number of filter frame(piece)
Capacity of the filtering chamber(L)
BAMS1/320-30U
1
320*320
30
4
5
15
BAMS2/320-30U
2
9
10
31
BAMS3/320-30U
3
14
15
46
BAMS4/450-30U
4
450*450
30
9
10
61
BAMS6/450-30U
6
14
15
91
BAMS8/450-30U
8
19
20
122
BAMS12/450-30U
12
29
30
182
BAMS16/450-30U
16
39
40
243
BAMJ20/630-30U
20
630*630
30
24
25
298
BAMJ30/630-30U
30
37
38
453
BAMJ40/630-30U
40
49
50
595
Model
Rated filtering pressure(Mpa)
Max displacement of the compression plate(mm)
Overall dimension(mm)
Overall weight(mm)
Foundation dimension(mm)
BAMS1/320-30U
1.0
300
1210*660*650
350
710*150*500
BAMS2/320-30U
1565*660*650
400
1020*150*500
BAMS3/320-30U
1875*660*650
455
1330*150*500
BAMS4/450-30U
0.6
400
1940*870*870
720
1160*180*600
BAMS6/450-30U
2250*870*870
800
1470*180*600
BAMS8/450-30U
2560*870*870
880
1780*180*600
BAMS12/450-30U
3160*870*870
1020
2380*180*600
BAMS16/450-30U
3770*870*870
1180
2990*180*600
BAMJ20/630-30U
0.6
500
3400*1150*1160
1980
2490*400*800
BAMJ30/630-30U
4220*1150*1160
2350
3310*400*800
BAMJ40/630-30U
4950*1150*1160
2680
4040*400*800
Oil Filtering Plates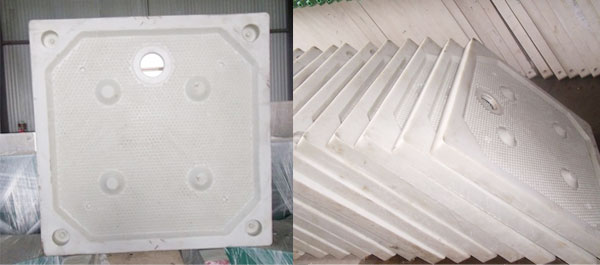 Filter Press Operation
Tighten the filtering plate;
Open valve 4, close valve3;
Start feeding pump2 to make the crude oil go into the filter.;
Observe the pressure of pressure gage during filtering, adjust the filtering pressure according to practical situation, open the valve 3 to make the pressure bellow 0.6Mpa;
Adjust the feeding pressure with valve 3, close the feeding pump when the quantity of filtered oil become less, if it's necessary to wash the plate, open the filtering plate and discharge filter cake
If the filter cake isn't dry enough after opening the filter plate, close the filtering plate and keep on doing the filtering process.
Feel free to get in touch with us any time you are interested in our filter press!