oil press machines
you choose. This small
palm oil pressing line
is a semi-continuous oil production unit that easily connects each piece of press machinery together to create higher efficiency and at the same time, make the production more safety. This small automatic oil pressing unit requires very little investment and land space, but maintains complete functionality in production. It is your ideal choice for starting your palm oil making business!

KMEC is a well-reputed company in the field of oil processing which specialized in oil project design, facility installation and debugging. We can provide customized
oil pressing plant
as well as
oil refinery plant
for a great number of vegetable seeds, such as groundnuts, canola seed, coconut, cottonseed, sunflower seed etc. We will always offer the most suitable solution according to your raw materials and production scale. The small oil pressing lines we offered are premium quality guaranteed at the most competitive prices. Choose us today and we will never let you down!
Palm Kernel Oil Pressing Flowchart

Palm Kernel Oil Pressing Line Main Machinery
Note:
The daily production of the line depends on the screw oil press machine you use. The integrated oil press includes vacuum filter in it that can filter crude oil itself.
Cleaning Sieve
Model: 6SX-1200
Capacity: 3~5T/H
Power: 1.5KW
Net Weight: 300KG
Outside Size:2350*1350*1300MM
Cooker
Model: 6GT-700
Capacity:150~200KG/h
Power: 1.5KW
Net Weight: 160KG
Outside Size:1525*1220*1490MM
Oil Filter Press
Model: 6LB-250
Capacity: 200kg/hr
Power: 1.1kw
Weight: 470kg
Working Pressure: 0.3-0.4MPa
Dimension: 1300*750*700mm
Screw Elevator
Model: STS-5
Capacity: 1~2T/H
Power: 1.5KW
Net Weight: 200KGS
Outside Size:2880*1080*575mm
Screw Oil Press
Model: YZS-100
Capacity: 4-5MT/24H
Power: 7.5KW & 15HP
Outside Size: 1910*610*765mm
Weight: 550kg
Integrated Oil Press
Model: YZS-100A
Capacity: 5T/24H
Power: 7.5+1.1KW
Outside Size: 2270x750x1820mm
1220*590*600mm
Weight: 780KG
Advantages of Our Palm Kernel Oil Pressing Line

Palm Oil & Palm Kernel Oil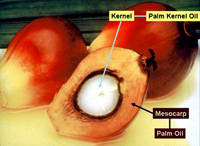 Palm kernel oil is an edible plant oil derived from the kernel of the oil palm. Palm kernel oil, which is semi-solid at room temperature, is more saturated than palm oil and comparable to coconut oil. It is commonly used in commercial cooking because of its relatively low cost, and because it remains stable at high cooking temperatures and can be stored longer than other vegetable oils.
Palm oil is naturally reddish in color because of a high beta-carotene content. It is not to be confused with palm kernel oil derived from the kernel of the same fruit. The use of palm oil in food products has attracted the concern of environmental activist groups.