Main Process of Rapeseed Oil Pressing
Rapeseed oil pressing includes the following process: cleaning, cooking, pressing and filtering. After the extracting process, you can choose our small oil refinery line to get purer rapeseed, canola oil for food uses.

Main Equipment of the Soybean Oil Pressing Line
cleaning sieve, cooker, filter press, screw elevator, oil press
Cleaning Sieve
Model: 6SX-1200
Capacity: 3~5T/H
Power: 1.5KW
Net Weight: 300KG
Outside Size:2350*1350*1300MM
Cooker
Model: 6GT-700
Capacity:150~200KG/h
Power: 1.5KW
Net Weight: 160KG
Outside Size:1525*1220*1490MM
Oil Filter Press
Model: 6LB-250
Capacity: 200kg/hr
Power: 1.1kw
Weight: 470kg
Working Pressure: 0.3-0.4MPa
Dimension: 1300*750*700mm
Screw Elevator
Model: STS-5
Capacity: 1~2T/H
Power: 1.5KW
Net Weight: 200KGS
Outside Size:2880*1080*575mm
Screw Oil Press
Model: YZS-100
Capacity: 4-5MT/24H
Power: 7.5KW & 15HP
Outside Size: 1910*610*765mm
Weight: 550kg
Integrated Oil Press
Model: YZS-100A
Capacity: 5T/24H
Power: 7.5+1.1KW
Outside Size: 2270x750x1820mm
1220*590*600mm
Weight: 780KG
Features of Rapeseed Oil Pressing Line
Wide application for various seeds and nuts
Small investment, fewer land space, fewer labor but with the complete function of the production.
Easy to operate, install and commissioning.
The semi-continuous can avoid the unstable material feeding caused by manual and can make the worker safety more under the higher temperature working situation.
What is Rapeseed Oil and Its Benefits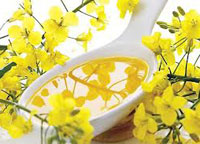 Rapeseed oil, sometimes called vegetable or canola oil, it comes from the black seeds of the rapeseed plant, Brassica napus, from the same Brassica family as the health enhancing vegetables broccoli, cabbage and cauliflower. The plant produces sunny, yellow flowers around springtime, so look out for golden fields brightening our beautiful landscapes during these months.
Rapeseed oil has in the past been in the shadow of its better known Mediterranean counterparts, olive and sunflower oil, however, celeb chefs, foodies and nutritionists alike are now recognising and celebrating its culinary and health propertie