|
related posts
|
Most people who want to start peanut/groundnut oil making business often wonder where can buy the most suitable oil press machine that is of high quality and charged at low price. Although there are many suppliers and manufacturers around the world, it is not easy to find a real reliable peanut oil press machine supplier.
ABC Machinery is China top oil press machine manufacturer and supplier. The peanut oil making machine we supplied can sits all scale peanut oil production line. Most important, all our peanut oil extraction machine can be customized based on your requirements and offered at factory low price!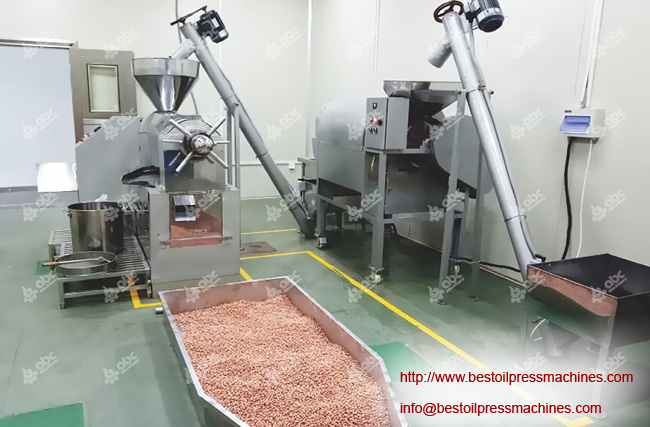 Auto-Temperature Control Peanut Oil Making Machine
Hot Sale Peanut Oil Making Machine from ABC Machinery
There are three types of peanut oil making machine for customer choosing, including single screw type, automatic type with filters and auto-temperature control type. You can choose the BEST one according to your actual needs and requirements. (Read more about Peanut Oil Processing Machine Price >>)


Screw Peanut Oil Extraction Machine
Features of Peanut Oil Pressing Machine
Easy to maintain, operate and install. In addition, we can complete service to help the operation of the peanut oil extraction machine.
Requires low cost, but ensure premium quality
Suitable for various other vegetable seeds, including palm kernel, soybean, cottonseed, sunflower seeds and more.
Peanut Oil Making Process

Small Scale Peanut Oil Processing Line (1~20TPD)
Cleaning: It is very necessary to clean the peanut seeds before carrying out the next process. Usually, the large organic impurities can be removed by cleaning sieve, while, if there are metal pieces, the magnetic machine can help to remove it.
Crushing: This process is depended on the raw materials. If the peanut is large in size, it is better to use crusher to make it smaller.
Cooking: Peanut is cooked with professional cooker or steam cooking machine to adjust the water and moisture. This process is to improve the oil pressing rate.
Pressing: Although the pretreatment process is very important for peanut oil processing, the core process is peanut oil pressing. Please note the oil coming directly from the peanut oil processing machine is crude oil peanut oil.
Clarification: Since the crude oil peanut oil contains many impurities that brought from the oil pressing process or other substances. So, use the oil filter machine to remove all the organic impurities contained in the crude oil and get clear crude groundnut oil.
Refining: Most people will think this is over for peanut oil processing, actually, complete peanut oil processing line should include the oil refining process to remove all the oil soluble and non-oil soluble substances.