This small scale peanut oil pressing line is fully adopted mechanical driven, it connects each oil processing machinery together to extract oil with higher oil yield and at the same time, change the single machines by manual into the semi continuous production line to liberate the workforce. It is really an ideal investing item with little investment, high production efficiency and high profits!
Peanut Oil Pressing Line

Oil mill equipment in the pressing line changes according to raw materials and production. Above is the design plan for 5TPD peanut oil pressing line, just for reference only. You can also use an
automatic oil press machine
instead of the screw oil press and oil filter press for our new automatic oil making machine is a integrated oil expeller with vaccum filters.
Main Equipments in the Peanut Oil Pressing Line
Peanut Sheller
Type: 6BK-400B
Capacity: 400kg/h
Power: 2.2KW/2HP
Net Weight: 127KGS
Outside Size: 1200*600*1240mm
Cleaning Sieve
Capacity: 3~5T/H
Power: 1.5KW
Net Weight: 300KG
OutsideSize:2350*1350*1300MM
Cooker
Capacity:150~200KG/h
Power: 1.5KW
Net Weight: 160KG
OutsideSize:1525*1220*1490MM
Oil Filter Press
Capacity: 200kg/hr
Power: 1.1kw
Weight: 470kg
Working pressure: 0.3-0.4MPa
Dimension: 1300*750*700mm
Features of the Peanut Oil Pressing Line
★
Easier to operate, easier to install and commissioning.
★
Need small investment, fewer land space, but with the complete function of the production.
★
Wide application that can make many other kinds of vegetable seeds and nuts, such as rapeseeds, cotton seeds, sunflower seeds, corn germ, palm kernel, sesame seeds and so on.
★
Need fewer labor than the single machines, only 2~3 persons can run the whole line
★
The semi-continuous can avoid the unstable material feeding caused by manual and can make the worker safety more under the higher temperature working situation.
Is Peanut Oil a Healthy Oil?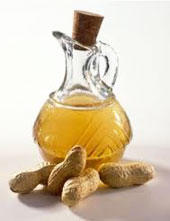 If you're trying to eat a healthier diet, you may want to take a closer look at the oils you cook with. Peanut oil has a high smoke point so it can be used for high temperature cooking. In addition, it has a pleasing taste that can add additional character to a dish. What are the benefits of peanut oil? Is it a healthy option for cooking?
Peanut oil provides several health benefits and offers a healthier source of fat. Additionally, peanut oil often costs less than olive oil, although it contains most of the same nutrients and provides many of the same benefits; hence, it makes a wise economic choice as well as a flavorful, healthy food choice. When buying peanut oil, look for packages that state "100 percent peanut oil," to get the most benefits. Lower cholesterol, Lower blood pressure, Aid weight loss, Benefit diabetics.