|
products
|
screw oil press
|
Model: YZS-95 Screw oil press
Capacity: 5T per 24Hours
Power: 11KW
Size: 1920*550*765mm
Weight: 480kg
Click on the picture to zoom in
YZS-95 screw oil press is an advanced oil making machinery that is capable of processing multiple plant seeds and has better results to press soybean and cotton seeds. This oil expeller utilizes the screw shaft that is set-up with different styles of screws and rotates when machine is running to push the material into chamber. Then the oil is separated out through the extrusion of pressing worm and pressing ring. This oil press can cut the oil cake into small pieces, which matches the needs of the expelling for times.
Main Structure of the YZS-95 Oil Making Machine
It is composed of feeder, gearbox, pressing cage, screw shaft and machine stand etc.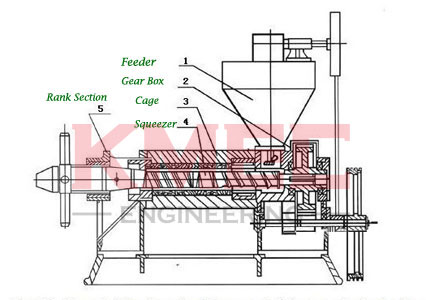 Features of YZS-95 Screw Oil Press
★
Cast iron machine base;
★
Gear reducer system;
★
Main parts through the processing of high-temperature tempering and low temperature quenching;
★
Superior grade oil & cake;
★
Compact structure, stable function, simple maintenance.