|
products
|
integrated oil press
|
Model: YZS-60 Integrated Oil Press
Capacity: 30KG/H
Power: 2.2KW
Voltage: 380V
Packing Dimensions: 600*650*880mm
Weight: 210KG
Vacuum Pump: 4L
Click the picture to zoom in!

The YZS-60 integrated oil press is specially designed to expel sesame seed, but it also performs very well in extracting oil from walnut, peanut seed, sunflower seed, rape seed and so on. It is small in size and light in weight, so this oil expeller is ideal choice for mobile operations to work at a vegetable market, a supermarket, a bazaar in the countryside, or even at home. The YZS-60 oil press can automatically expels and filters the oil simultaneously, with a high rate of production and oil output rate. There are four main parts in the integrated sesame oil press, they are oil press, filter press, feeder and electrical cabinet.
Recently, our company develps new type oil machine for sesam oil extraction. It is the hydraulic sesame oil machine. It is now the most widely used sesame oil making machine in many sesame oil factory since the sesame oil extraction process is pure Cold Pressing and Physical Pressing. It is also the BEST choice for high-end vegetable oils processing. The seeds it can process includes peanut/groundnut, almond, mustard seed, walnut, olive and more.


Cold Press Hydraulic Oil Press Machine
How to Extract Pure Sesame Oil from Sesame Seeds?
Before you start making sesame oil by expeller equipment, sesame seeds should be pretreated and cleaned in advance to get rid of impurities by certain cleaning equipment. Then the pretreated sesame seeds could get pressed by our professional sesame oil making machinery. You even don't need an oil filter press to filter the crude oil for the YZS-60 oil press machine is a specific model designed to extract sesame oil, its vacuum filters with help filtering the extracted sesame oil.

Sesame Oil and Its Benefits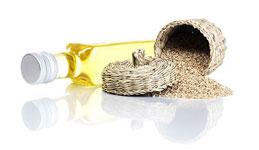 Correct sesame oil processing must take into account the unique features of sesame oil. Sesame oil is an edible vegetable oil derived from sesame seeds. It is high in polyunsaturated fat (43%) and monounsaturated fat (42%).
The health benefits of sesame are amazing. In fact, this nutrient dense food is been used for over 5000 years. Many consider sesame oil a medicinal food and its use has grown in popularity. As a matter of fact, sesame oil can provide benefits for your skin, teeth and bones as well as other health benefits.