Soybean Oil Pressing Main Process
The production of soybean oil involves cracking soybean seeds, heating them, then extracting the oil through physical or chemical means.

Main Equipment of the Soybean Oil Pressing Line
cleaning sieve, cooker, filter press, screw elevator, oil press
Cleaning Sieve
Model: 6SX-1200
Capacity: 3~5T/H
Power: 1.5KW
Net Weight: 300KG
Outside Size:2350*1350*1300MM
Cooker
Model: 6GT-700
Capacity:150~200KG/h
Power: 1.5KW
Net Weight: 160KG
Outside Size:1525*1220*1490MM
Oil Filter Press
Model: 6LB-250
Capacity: 200kg/hr
Power: 1.1kw
Weight: 470kg
Working Pressure: 0.3-0.4MPa
Dimension: 1300*750*700mm
Screw Elevator
Model: STS-5
Capacity: 1~2T/H
Power: 1.5KW
Net Weight: 200KGS
Outside Size:2880*1080*575mm
Screw Oil Press
Model: YZS-100
Capacity: 4-5MT/24H
Power: 7.5KW & 15HP
Outside Size: 1910*610*765mm
Weight: 550kg
Integrated Oil Press
Model: YZS-100A
Capacity: 5T/24H
Power: 7.5+1.1KW
Outside Size: 2270x750x1820mm
&n bsp; 1220*590*600mm
Weight: 780KG
Advantages of Soybean Oil Pressing Line
Easier to operate, install and commissioning.
Small investment, fewer land space, fewer labor but with the complete function of the production.
Wide application for various seeds and nuts
The semi-continuous can avoid the unstable material feeding caused by manual and can make the worker safety more under the higher temperature working situation.
Soybean Oil and Its Benefit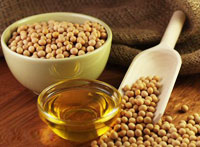 Soybean oil is a vegetable oil extracted from the seeds of the soybean. Soybean oil is an edible oil with a light and clean flavor that is commonly used for cooking. There are numerous benefits of using soybean oil. Soybean oil can be considered a healthy oil, provided that it's not been hydrogenated and provided that it's certified organic. The oil is 60% polyunsaturated fat and 24% monounsaturated fat, according to the National Soybean Research Laboratory, making it a heart-healthy oil.